Watch Latest Episode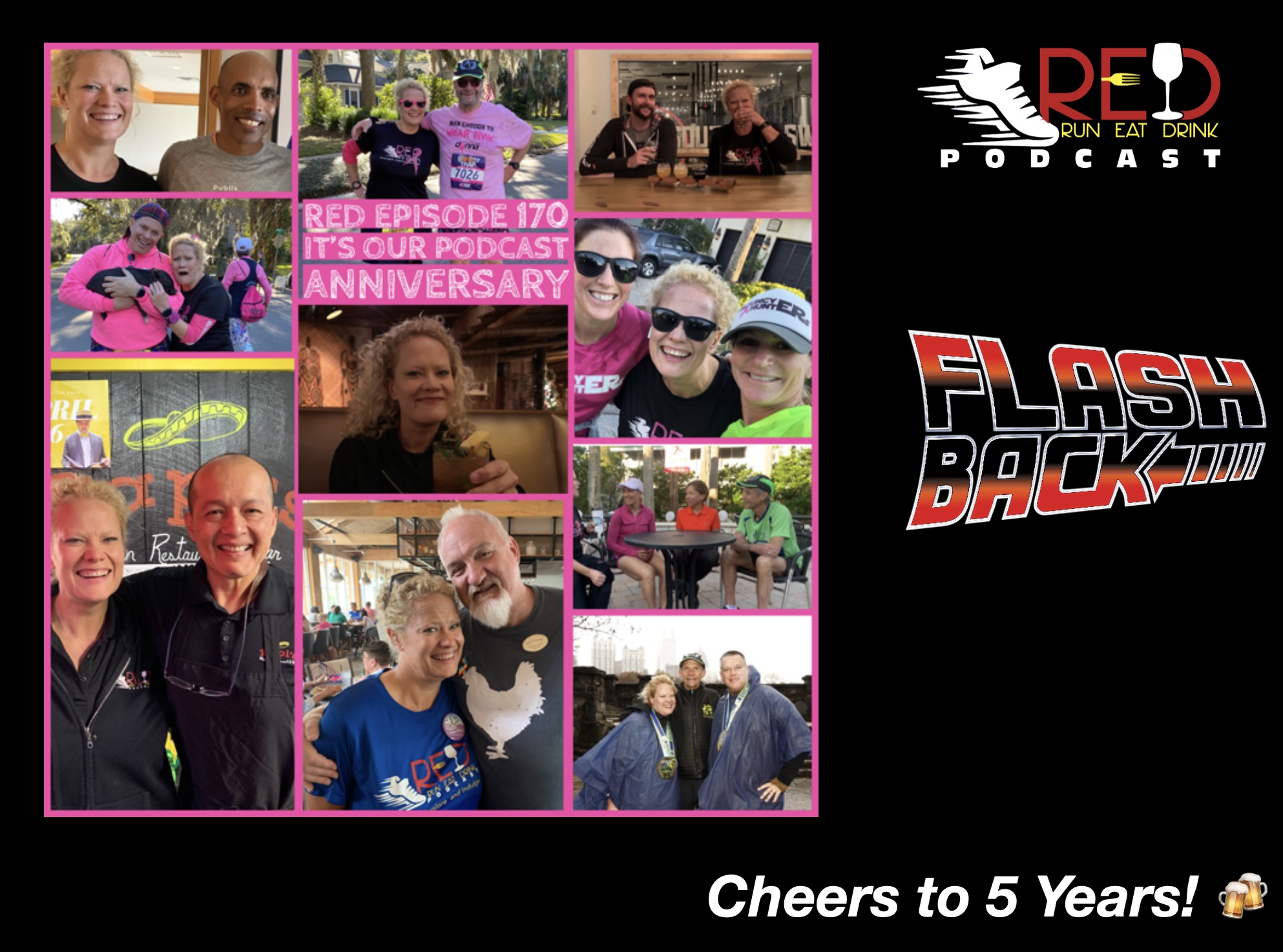 5th Anniversary Flashback RED Episode 170: It's Our 4th Podcast Anniversary!
It's our 5th Anniversary this month. As part of the celebration, we will post flashback episodes all month long to celebrate and say thank you. If it were not for you, our Runcation Nation community, we would not have had this show for the last five years, had some of the most amazing experiences, and created lasting friendships in this community.
Next up it's our anniversary episode from last year to round out the month's look back at the most meaningful episodes. We have no words to thank you for making the last five years truly great!
SHOUT-OUTS 
Thanks to all our patrons and everyone in the Runcation Nation for your support and encouragement last week.  We could not have made it through without you.
Thank you to all who sent us gifts to celebrate our podcast anniversary!  It was so thoughtful!  We will show your gifts on the show and the live chats this week! Thank you for the messages and calls celebrating our anniversary, too!
Special thank you to our patrons, too!  We have been able to expand our studio and keep the show going over the last year and a half.   We can't express how much it means to us.  We appreciate it from the bottom of our hearts. 
If you'd like more of the Run Eat Drink Podcast, including bonus content, early access to episodes, and more, become a patron of the show!  Go to www.patreon.com/runeatdrinkpodcast to find out more.
RUN
It's the long-awaited preview of our race calendar for the second half of 2021.  These races are only a starting point, but they include:
And of course, we couldn't help but go just a bit into 2022 because this race is a must-do, we want it to be a "Runcation Nation" meetup, and they have announced that it will be an in-person event… The Donna Marathon Weekend 2022!
We also talk about our favorite moments from our show's history on the racecourse.  Dana and Aimee share favorite and funny moments from the show.
EAT
We run so that we can explore great food, of course. So what have been the best meals we've had on the show?  Aimee and Dana choose their favorites from the 4-year run of the show!
DRINK
And… last, but certainly not least, we run to indulge in great beverages.  Which ones do we crave and want to have again and again? Which ones do we long to get back to as soon as possible?  We chat about that, too!
Thanks to everyone who called in and sent messages wishing us a Happy Anniversary!  It did our hearts so much good! We love you all and can't wait for an incredible 5th year with you all! 
If you choose to indulge, please drink responsibly by having a designated driver or taking a rideshare service. Stay safe, Runcation Nation!
NEXT WEEK:  We recap Richard's Run For Life that took place on Father's Day.  We will also discuss a great vegan option we found in Tampa after the race!
THAT'S A WRAP!
Thank you for listening! We are looking forward to YEAR NUMBER 5 of the podcast because of your support! Don't forget to follow us and tell us where to find you next on our website, Facebook, Instagram, and Twitter. Also, check out our store on the website and get some swag, thanks to Pure Creative Apparel. Thanks to PodcastMusic.com for providing the music for this episode, too!